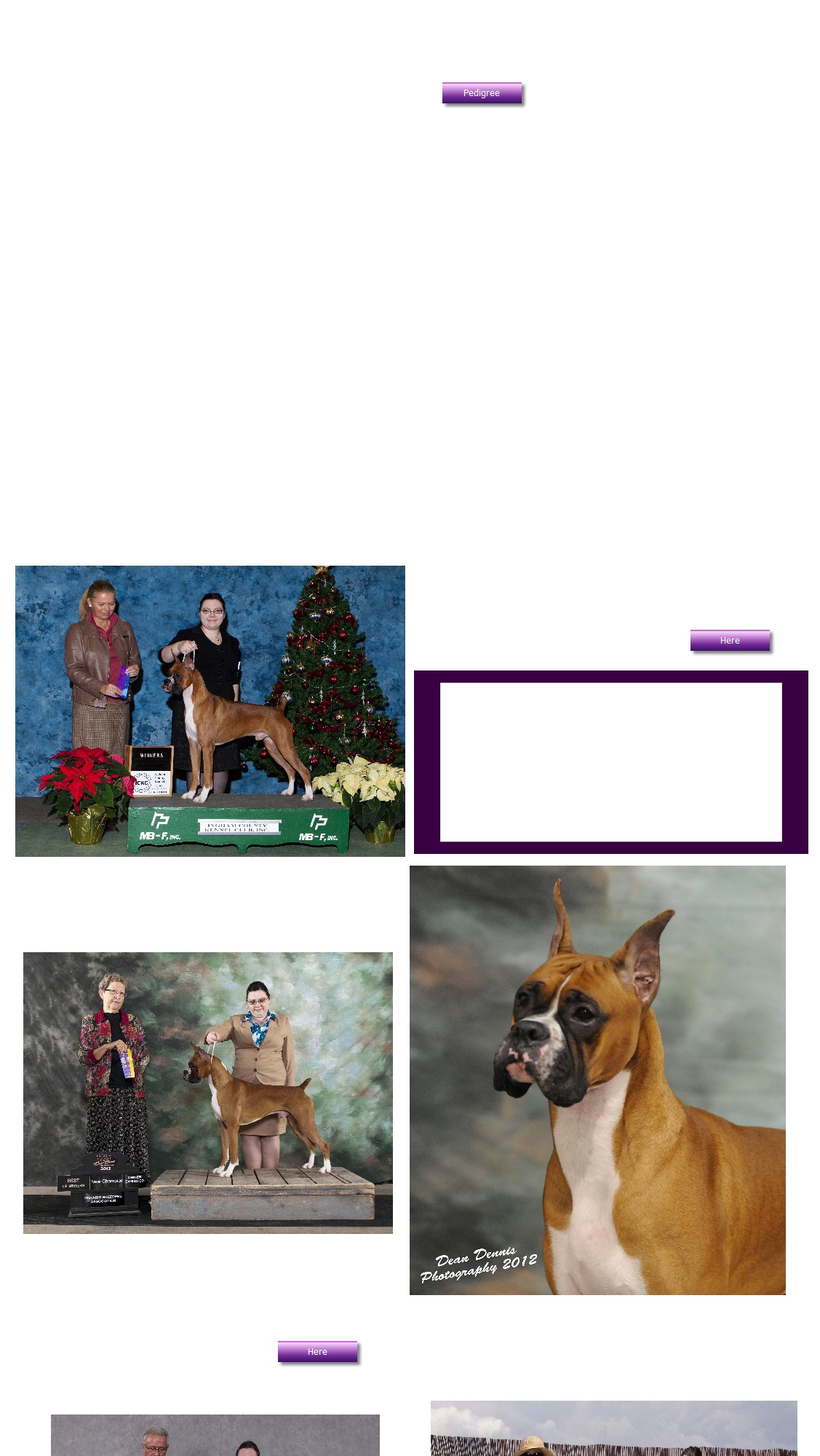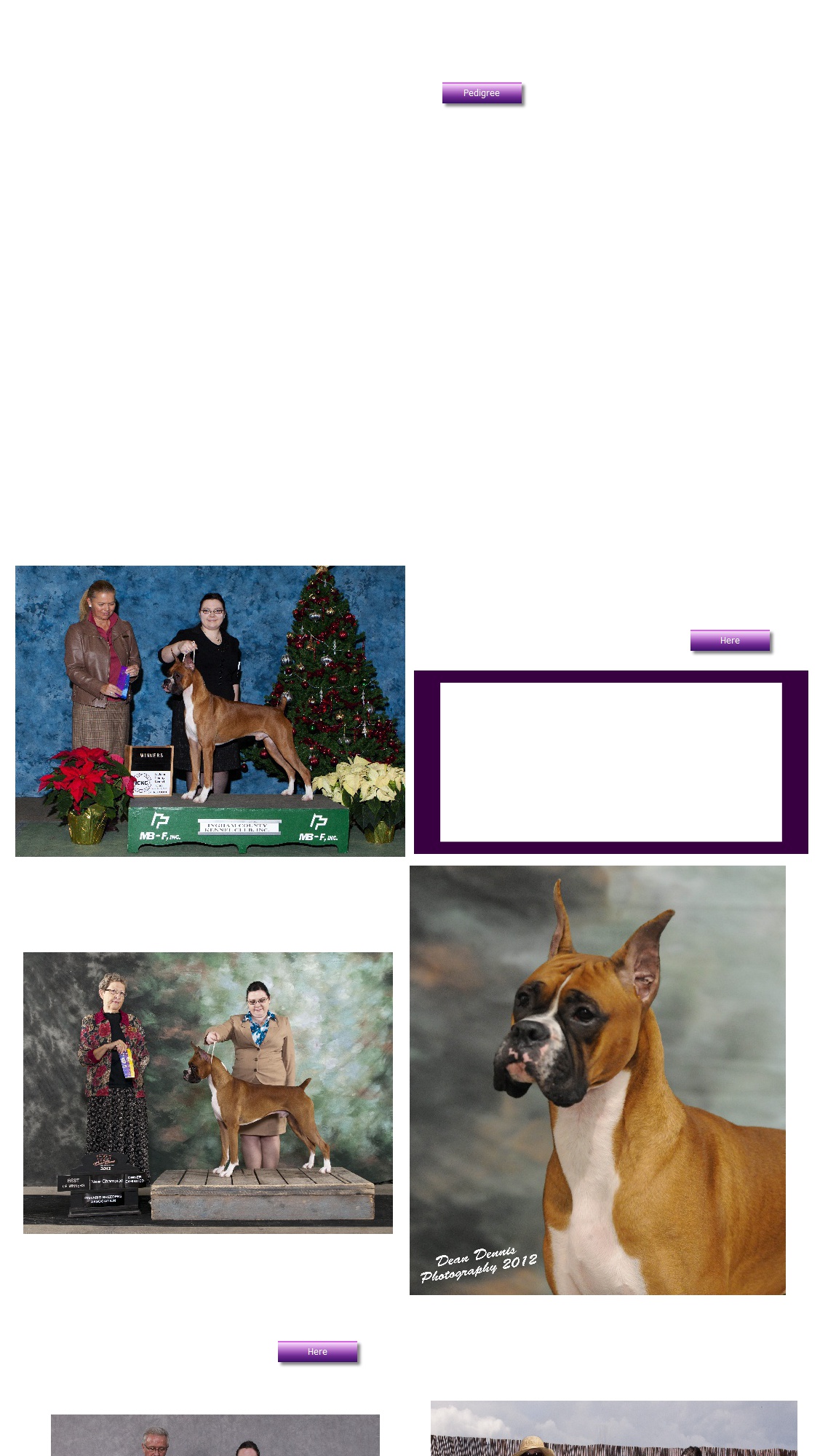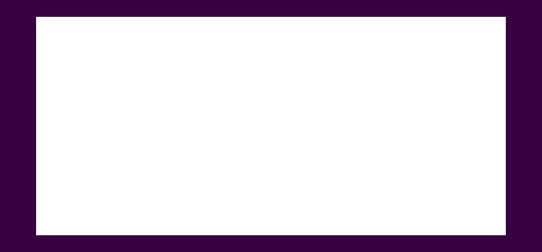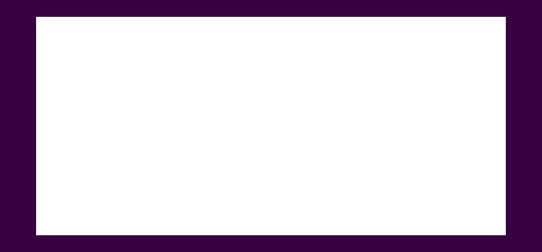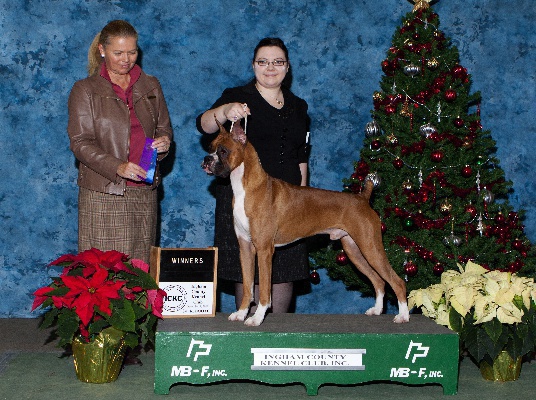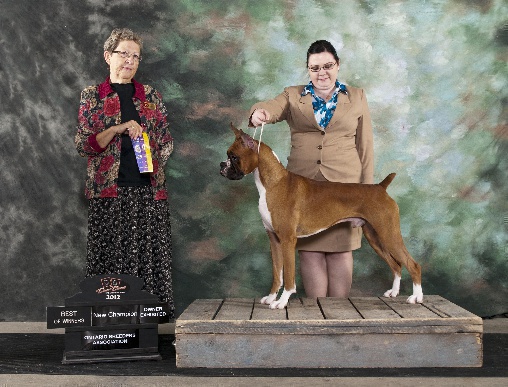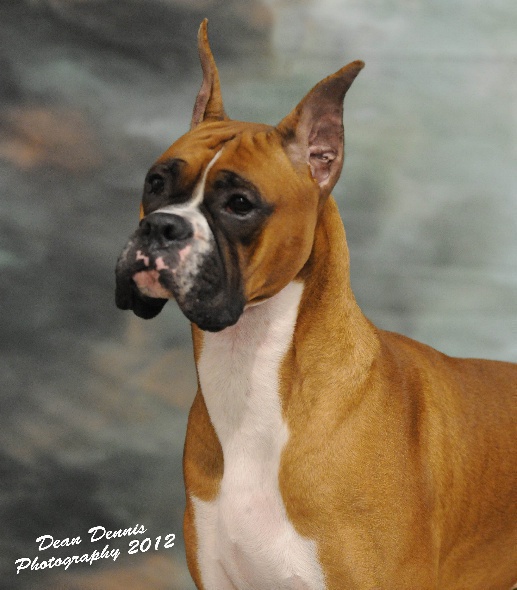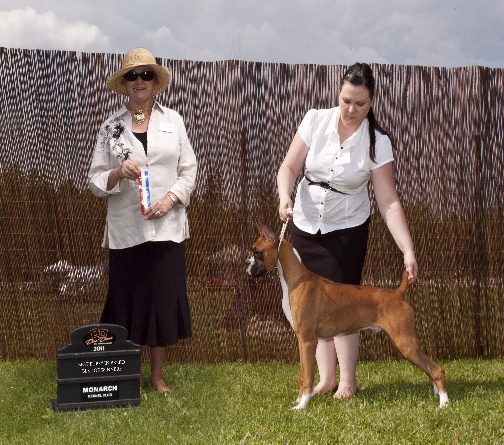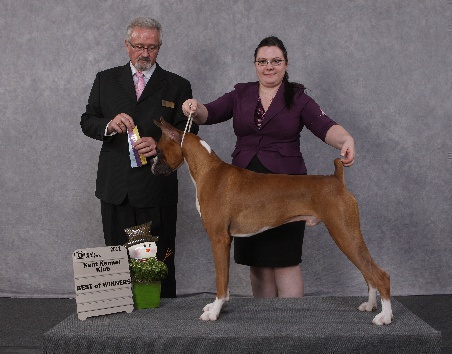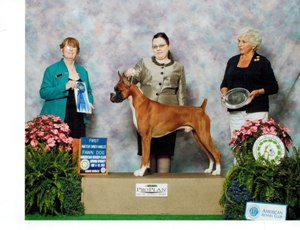 CH. Cinnrhee's Pokerface Heartacre
'Jace'

Ch.Cinnrhee Hiriveroler Heartacre x Ch. Heartacres Cinnrhee of Kadenza

Copyright Vanquishboxers.com | All Rights Reserved.

DOB: December 16, 2010

For a while we had mulled the idea of adding a male to our family and in the winter of 2010, there was a promising litter at Cinnrhee Boxers that included 2 boys. We decided the timing was right and thought it was a great opportunity. Jace entered our home at 8 weeks as if he owned the place and fit right in our home with Abby and Esme. Not long after Jace came into our lives, we lost Abby so he has helped us through that loss.

Jace has been a very smart boy to train, although with a very high energy level that often makes us laugh. He also has been known to make a few judges laugh as well but they have also commented on his wonderful temperment. At his first show at just 6 months and a day, he went Best of Winners and Best Puppy in Breed gaining 2 points owner handled by Melissa. He has since garnered many BPIB's with light showing as he he grows up and matures.

At 11 months at the Kent Kennel Club, he went Best of Winners, Best of Opposite and Best Puppy in Breed for 2 points and later that day, he again went Best of Winners and Best Puppy in Breed for another 2 points. That day was particulary exciting as Esme also gained another point.

At just 14 months of age, Jace becomes a Canadian Champion at the Ontario Breeders Association show. This Championship was earned completely owner handed by both of us! Jace will be showed in the US and specialed in Canada here and there.

His littermates have also taken the showring by storm with AM CH Cinnrhee V Card Stud Heartacre being in the 2013 Top 20, AM/CAN CH Cinnrhee's One Of A Kind being in the 2014 Top 20 as well as AM/CAN CH Cinnrhee's Queen Of Hearts and AM/CAN CH Cinnrhee's Aces High attaining thier dual championships.

BOW/BPIB under Judge Rosemary Shoreman at 6 months of age

Health Testing

Holter - 0 VPC's (1/16/12), 47 VPC's, 1 pair (6/5/13), 25 VPC's (1/27/14), 44 VPC's (12/20/14)
SAS - Doppler Echocardiogram 8/12 - Flow rate 2.55m/sec with no structural abnormalities
ARVC Meurs Striatin Negative
DM - Carrier (A/N)
Thyroid - Normal (5/13/13), Low Normal (10/14/14)
Eyes - CERF clear



See Jace's ad on Boxer Daily

See more pics of Jace growing up
Vanquish Boxers Reg'd


BOW/BPIB under judge Joe Lobb (he also went BOW/BOS/BPIB that weekend under judge Darle Heck) at 11 months of age


WD under judge Paula Nykiel from the 9-12 class for his 1st American point. He also went RWD under Dr. Wanda Spediacci.

Jace at 14 months

Jace finishing his Canadian Championship at 14 months of age under Patricia Taylor

Not available for Stud